New PowerWand & GEMINI
Remarkably compact. Lightweight. Advanced lithium power.


Read more about Gemini
Read more about NEW PowerWand
Go straight to info about Hero & Sidekick
CONVENIENT, LIGHTWEIGHT CORDLESS INFLATION
The Balloon Hero family of cordless balloon inflators is ideal for balloon artists, clowns, magicians and other entertainers who work with twisting balloons.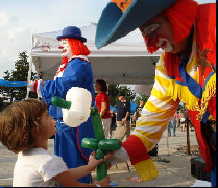 We invite you to check out our newer models--super lightweight Gemini (1.9 lbs.) or the new PowerWand, featuring a 36", fingertip-activated flexible air wand (or hose). We also offer the proven performance of compact Sidekick and powerful 24-volt Balloon Hero. Why offer four different models? Well, because we know that balloon twisters have unique ways of working. And different demands for their inflators. We are here to deliver the solution that serves you best. Thank you for visiting. Click below to find out more.
24-volt Balloon Hero
12-vol (lithium) Gemini
12-vol (lithium) PowerWand
12-volt Sidekick
\